Maine Snow Report:
March 20, 2019 — The Maine Office of Tourism, in collaboration with Ski Maine Association and the Maine Snowmobile Association (MSA), reports that the first day of spring welcomes incredible conditions for skiing and snowmobiling that will last into April.
Currently, the National Oceanic and Atmospheric Administration's (NOAA) snow depth map shows that despite little snow along the coast, more than half the state, including all of Aroostook County, still has more than two feet of snow.
Skiing in Maine
Below average temperatures expected into next week ensure that Maine's winter season will continue with great skiing, both downhill and Nordic.
"With the first spring snowstorm in the forecast for Maine's mountains this Friday, we can expect another exceptional weekend of skiing and snowboarding," said Greg Sweetser, executive director of Ski Maine.
Despite passing the midpoint of the season, the ski areas have reported strong attendance in their Learn to Ski and Snowboard packages. With longer days and snow depths the deepest of the year, now is the best time to learn.
Outdoor ski decks will be alive with music, barbecues and spring parties, and ski events:
Shawnee Peak's 35th Annual Spring Fling – Saturday, March 23
Après Relay at Sunday River – Saturday March 23
Banked Slalom at Sugarloaf – March 30-31
For skiers looking for a bargain, ski shops offer spring sales on all types of clothing and equipment.
Learn more about the downhill and Nordic centers at www.skimaine.com.
Maine Snowmobiling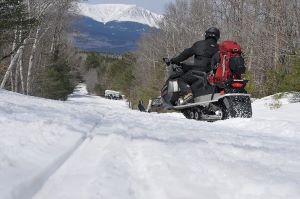 Nothing has changed on the Maine snowmobile front since last week's snow report. Trail conditions continue to impress, with exceptional conditions throughout many of Maine's regions. Trails of interest this week include:
Dedham — Enjoy the view from atop Bald Mountain
Eagle Lake – Where snow depths continue to surprise riders
Katahdin – Take ITS-86 west from Millinocket for incredible views
Kingfield, Oxbow, Rangeley, Solon and Stockholm – Some of the many areas still with excellent conditions
MSA Executive Director Bob Meyers said, "Riders should use a little more caution as the trails soften, but the groomers are still out and this year's spring riding should be fantastic."
Snowmobile trail conditions are updated daily.
For a list of upcoming snowmobile events, click here.
More Maine Spring Fun
Maine Maple Sunday—Sunday, March 24
An annual celebration of the coming of spring, Maine Maple Sunday is the perfect activity for families. Syrup producers from across the state open their sugarhouses to the public to enjoy samples of freshly made maple syrup and other goodies.
For a Dropbox of Maine winter activities, click here.
The snow reports, released each Wednesday throughout the season, will be posted on VisitMaine.com, where visitors can also find information about other winter activities and events. People enjoying the Maine winter are encouraged to share their photos on social media using #MaineWinter.
###
Editor's Note: Click on the image above or the link below to access a Dropbox folder of Maine winter images.
---