Maine's Snow Report
March 28, 2018 — The Maine Office of Tourism, in collaboration with Ski Maine Association and the Maine Snowmobile Association (MSA), reports that this week's snow report will mark the last report of the 2017-2018 winter season. Despite the conclusion of this season's reports, the winter conditions continue to be great in most ski centers and on many snowmobile trails in several regions of the state.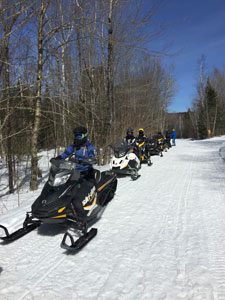 Currently, the National Oceanic and Atmospheric Administration's (NOAA)  snow depth map shows that the majority of Aroostook County still has at least two feet of snow.
Skiing in Maine
The fun continues in Maine's ski centers. "March keeps on delivering the best snow conditions of the year," said Ski Maine Executive Director Greg Sweetser. "According to the National Weather Service, nearly every snow reporting station in Maine crushes the 30-year average snowfall amount. With such deep snowpack, the majority of Maine's ski areas and cross-country centers will be open into the month of April."
Take advantage of skiing with coastal views one last time this season during Camden Snow Bowl's closing weekend.
Sunday River will have a busy weekend hosting the World Pro Ski Tour from March 29-31, featuring professional alpine skiers from around the globe. A women's competition has also been added to the schedule. This Saturday, Sugarloaf will host a Spring Demo Day, allowing attendees to be the first to test 2019 ski and snowboard equipment. Both Sunday River and Sugarloaf are posed to reach their May 1 closing target for both skiing and snowboarding.
Maine Snowmobiling
Despite the warmer temperatures, there is still time to enjoy snowmobiling in several regions of the state. "Though some of the trails are starting to show signs of spring, there is still terrific riding in the woods and the further north you go," said Bob Meyers, Maine Snowmobile Association executive director.
Be sure to check snowmobile trail conditions and snowpack before heading out to ride.
Trails of interest for this weekend include trails in the Allagash, Fort Kent, the Katahdin region, Kokadjo, Shin Pond and across Aroostook County. The snow report team and the MSA experienced sunny weather and great riding with flat and fast trails in The Forks yesterday.
More Maine Winter Fun
Looking forward to next weekend, the annual Climb the Pine—Race Your Neighbor Hill Climb event will take place at Lonesome Pine Ski Area in Fort Kent, sponsored by the Fort Kent Sno-Riders. Later in the month, snowmobilers should mark their calendars for April 21 for the Maine Snowmobile Association's annual meeting and awards at the Millennium Event Center in Palmyra. Join the association to celebrate 50 years. Call 207-622-6983 to make reservations.
To learn more about the Maine winter, and all to come this spring, go to VisitMaine.com.
###
Editor's Note: Click on the image above or the link below to access a Dropbox folder of Maine winter images.
---