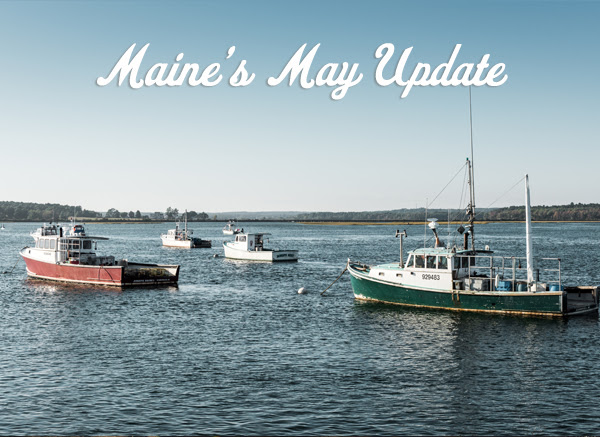 May 2017 — At long last, May is here. Summer resorts are getting spruced up and ready to reopen, spring fishing season is in full swing and lobster pounds are preparing for the influx of people "from away." May is migration month, when Deer Isle holds the Wings, Waves and Woods festival for those who always travel with birding binoculars at hand. In resort news, The Migis Hotel Group has bought and will reopen The Higgins Beach Inn, a classic property freshly restored on the coast in Scarborough. In outdoor pursuits, as the weather warms up, both golf and mountain biking are upon us. Music fans should make a note that the upcoming Bowdoin Music Festival is the first of many such festivals on the summer horizon. Finally, if the Down East Lobster Roll Festival is on the calendar, can summer be far away?
For writers, editors and bloggers looking for short-lead news, there are details under Happening Now. Those in search of longer lead news can scroll down to the Looking Ahead section.
A New Summer for the Historic Beachfront Higgins Beach Inn in Scarborough
The Higgins Beach Inn, a historic beachfront hotel in Scarborough, has been bought by The Migis Hotel Group, which has nine exclusive boutique hotels and destination resort properties, including Migis Lodge on Sebago Lake. The three-story colonial revival structure, which dates from 1897, is close to sandy Higgins Beach, which lies between Prouts Neck and Crescent Beach State Park. Renovated by Caleb Johnson Studio and Woodhull of Maine, the 23 newly designed rooms will have a modern feel with stylish furnishings. The Inn's new eatery, Shade, will feature a re-envisioned menu of fresh, locally sourced seafood, including Maine lobster and raw oysters. The renovated Higgins Beach Inn will reopen to guests on Memorial Day weekend, 2017. Room rates start at $169. Visit the Higgins Beach Inn for reservations.
Golf Season Arrives
You might not associate Maine with golf, but the state has 100-plus courses, found in both mountain communities and along the coast. There are legendary nine-hole courses, like the Evergreen Golf Club in Rangeley and the Frye Island Golf Club, which is indeed on an island in the middle of Sebago Lake. The Maine Golf Trail is a great way for visitors to plan a vacation around some of the state's most famous links, from the Belgrade Lakes course to the Sunday River Golf Club to Samoset Resort Golf Course, overlooking Penobscot Bay. Visit Maine has more info.
Wings, Waves and Woods
Subtitled "Birding by land, by sea and by art," this three-day event on Deer Isle from May 19 to 21 combines birding by foot, by boat, and even by plane. There are two trips to Seal Island that will offer sightings of Atlantic Puffins, Razorbills, Common Murres, Black Guillemots, Great Cormorants and possibly Northern Gannets. Other pelagic species seen in past years have included Wilson's storm-petrels, Parasitic Jaegers, and Red-necked Phalaropes. There will also be birding for kids, eagle spotting and a live owl demo. Contact the Maine Birding Trail for more info.
"Marsden Hartley's Maine" in New York
Marsden Hartley was one of Maine's best-loved painters and the new show at The Metropolitan Museum of Art's Met Breuer galleries in New York City, Marsden Hartley's Maine, celebrates this artist's work and continues until June 18, 2017. It highlights the American artist's lifelong artistic engagement with his home state of Maine in a landmark show that is inspiring visitors to experience Maine this summer and retrace Hartley's footsteps for themselves. At VisitMaine.com , they can find a map tracing the locations throughout the state that inspired Hartley, along with suggested itineraries and sightseeing, lodging and dining recommendations. The exhibition moves to the Colby College Museum of Art from July 8, 2017–November 12, 2017.

Mountain Biking
From single-track to gravel rail-to-trail roads, there's a lot of mountain biking in Maine. Those who are new to the sport might be happiest on the 45 miles of historic carriage roads in Acadia National Park. There are 15 state parks and publicly managed reserves in Maine that offer mountain biking trails and terrain, including Camden Hills State Park and Bradbury Mountain State Park in Pownal. Sunday River Ski Resort in Newry has more than 25 miles of lift-serviced riding while its counterpart, Sugarloaf, has well-marked and well-maintained trails for all abilities. Finally, Maine has a great network of rails-to-trails projects, like the St. John Valley Heritage Trail, Down East Sunrise Trail, the Lagrange Rail-Trail, and the Kennebec River Rail Trail. Go to Visit Maine for more info.
Summer Music Festival in Brunswick
The Bowdoin International Music Festival will run from June 24 to August 5 this year, offering more than 100 concerts and public educational events. Each summer since 1964, the Festival has brought renowned artist instructors, performers, soloists, and gifted pre-professional classical musicians from around the world to Bowdoin College in Brunswick for six weeks of intensive chamber music study, collaboration, and performances. The Monday Showcase series is a highlight, featuring concerts by world-class resident and guest ensembles including the Borromeo, Jupiter, Parker, Rolston, and Ying Quartets. Festival Wednesdays at the intimate Studzinski Recital Hall bring world-class performances of chamber music to Maine audiences. Festival Fridays showcase some of the Festival's most exciting offerings, from chamber music to concertos with orchestra. This year's highlights include Mendelssohn's lyrical and beloved Violin Concerto played by violin superstar Anne Akiko Meyers and Beethoven's Fifth Piano Concerto featuring Joseph Kalichstein. Visit The Bowdoin International Music Festival for more info.
The Down East Lobster Roll Festival

Just when you thought that the Maine lobster could not get any more love, along comes the Down East Lobster Roll Festival on July 8 at Thompson's Point in Portland. Maine's magazine of record, Down East magazine, will select the "World's Best Lobster Roll" at the inaugural festival. Sponsored by Allagash Brewing Company, a dozen semi-finalists will be asked to bring samples to the festival, where 100 VIP guests will vote on the top three contestants. Three judges will then choose the ultimate winner. The competition, the first-ever large-scale contest in Maine showcasing the state's iconic food, will also include a family-friendly afternoon of activity that will include everything from live music to an interactive kid's area to Maine-made vendors and refreshments. Visit The Down East Lobster Roll Festival for more info.
---