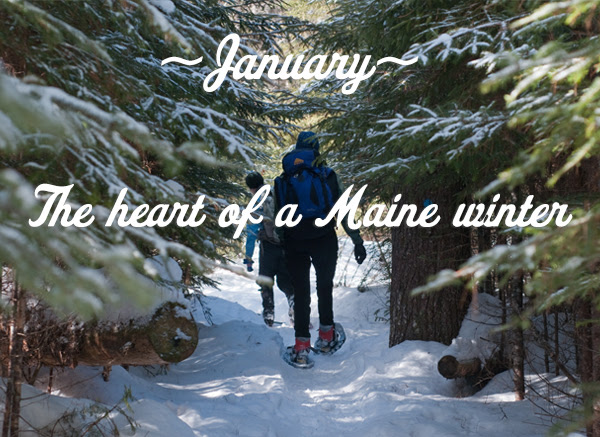 January 2017 — January is when visitors and locals alike embrace the cold weather in Maine and get outside — or find a good excuse to stay indoors. There are Registered Maine Guides to lead visitors into the backwoods on skis and dogsleds. An international snowmobiling festival later this month is an invitation to explore the Maine north country and venture into neighboring Canada. For those who prefer indoor pursuits, there are reborn mills that are now virtual malls, with shops and restaurants. A classic Maine diner celebrates its 50th birthday and art lovers have the reopening of the Portland Museum of Art to look forward to.
For writers, editors and bloggers looking for short-lead news, there are details under Happening Now. Those in search of longer lead news can scroll down to the Looking Ahead section.
International Snowmobilers Festival
Ladies and gentlemen, time to rev your engines. The International Snowmobilers Festival is returning to the St. John Valley in northern Maine after a six-year absence. Spearheading the event, which takes place from January 20-22, 2017, is the Core Leadership Team of the Acadia of the Lands and Forest. This incredible sledding event offers close to 1,000 miles of trails for snowmobilers to explore in Maine, as well as in neighboring Quebec and New Brunswick. Approximately 30 businesses and other locations across the region will act as festival "checkpoints," offering special incentives to participants. Merchandise and cash prizes worth approximately $10,000 (Canadian) will be available to win through various contests and drawings. It's all happening on the giant snow playground of Acadia of the Lands and Forest. For more information, visit AcadiaSnowmobile.com.
More than Snow in a Maine Winter
There's more to winter in Maine than skiing, ice fishing and skating. How about a visit to the Portland Winter Farmers' Market, held indoors in winter every Saturday morning at 84 Cove Street? It's a chance to immerse yourself in Portland's dynamic food scene even in the middle of winter. Or, spend a weekend tucked away at a classic Maine inn like the legendary White Barn Inn in Kennebunk. Spa treatments and dinner at The White Barn Inn Restaurant are a great way to get through a winter weekend. Explore revived mills in cities like Biddeford, where the Pepperell Mill Campus offers dining, shopping and art galleries. If you want a more hands-on experience, the Maine Media Workshop in Rockport offers workshops in photography, filmmaking and writing, as well as design and book arts throughout the winter. For more ideas, go to Visit Maine.
A Classic Maine Diner Turns 50
Maine has long treasured its iconic diners, from the A1 Diner in Gardiner to Becky's Diner in Portland and the Palace Diner in Biddeford. But Dysart's Truck Stop, which celebrates its 50th anniversary in 2017, is a breed apart. A bona fide truck stop in Hermon, near Bangor, it offers fuel, a full-service garage, a car wash, truckers' showers and a store where you can get snacks or a new CB radio. The truckers came to fuel up and the restaurant quickly followed. Today, it's open 24/7 and serves breakfast all day, as well as a bevy of Maine classics. Those include Yankee pot roast, chicken pot pie, fried whole belly clams, liver and bacon, a hot Thanksgiving sandwich, and beans and red franks, with blueberry pie to finish. Go to Visit Maine for a list of other classic diners.
Registered Maine Guides for Winter Sports
Hunters and fishermen have long sought out the services of legendary Registered Maine Guides. But these highly trained outdoorsmen and outdoorswomen are winter savvy as well, offering a variety of services for the cooler months. Maine Dogsledding Adventures gets you and a team of dogs on the trails near Katahdin. Dogsledding, cross country skiing and snowshoeing are at the heart of the two- and three-day trips in Western Maine led by Mahoosuc Guide Service while Maine Blackwater Outfitters offers extensive snowmobiling trips in Aroostook County. Go to Visit Maine for information on other outfitters.
The Arts: The Portland Museum of Art Reopens

Closed for renovations during the month of January, The Portland Museum of Art will have a grand reopening on February 3, 2017, with Lights Across Congress, which PMA promises will be the Maine art event of the year. This event, anchored by a 124-foot-wide by 36-foot-high multi-dimensional projection on the museum's brick façade, starts at 6 p.m., accompanied by music, ice sculptures, and food trucks along Free Street. The PMA will be awash with light, and visitors will be welcomed inside for a first look at Your Museum, Reimagined, with completely reinstalled galleries, new special exhibitions, gallery talks, a new installation of The Workshop, celebratory treats in the PMA Café, and activities for all ages. Two major exhibitions will open the same day: The Thrill of the Chase, a show of The Wagstaff Collection of Photographs at the J. Paul Getty Museum and The Mistress and the Muse, which will exhibit selections from the Isabelle and Scott Black Collection. Visit PMA for more info.
---