October 2016 – The red and gold splendor of foliage season is gradually moving north to south in Maine, but there's still time to come see the leaves go through their magical transformation. This month, read about the Katahdin Woods and Waters area and two Maine restaurants that were recently singled out in the national press. With the summer crowds gone, it's the ideal time to book a table. October is always a good time to make plans to attend holiday events and a shopping outing before the holidays. For those in need of a little musical diversion, there's a remarkable concert venue in Western Maine that welcomes some of the country's best singer-songwriters to its stage throughout the cooler months.
For writers, editors and bloggers looking for short-lead news, you'll find immediate details under Happening Now. Those in search of longer lead news can scroll down to the Looking Ahead section.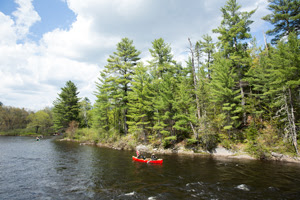 Navigate Katahdin Woods & Waters
The Katahdin Woods & Waters Scenic Byway is an 89-mile-long route that offers breathtaking views of Katahdin and the Appalachian chain, and provides a mix of pastoral farms, meadows, recreational trails, and working forests filled with wildlife and significant natural areas. The byway begins at the southern entrance of Baxter State Park and winds its way through Millinocket along Route 11 and the Penobscot River to Patten, ending at Baxter's northern entrance at Grand Lake Matagamon.
Food Press Praises Two Remarkable Maine Restaurants
Maine's dining scene continues to evolve and get even richer and more creative. The proof is in the kudos, which recently came from Condé Nast Traveler, giving a shout-out to Portland's Eventide Oyster Co. It is "the oyster bar of your dreams: briny half-shells most likely harvested that morning, note-perfect lobster rolls, a killer wine list, and all sorts of unexpected treats on the daily menu," reported Peter Jon Lindberg, a contributing editor for the magazine. In Western Maine, The Oxford House Inn in Fryeburg was named to the 2016 list of "100 Best Restaurants for Foodies in America" by the review and reservation website OpenTable. They analyzed more than five million reviews of more than 20,000 restaurants across the country to come up with their list.

Stone Mountain Arts Center
At the edge of Western Maine in the hills of rural Brownfield is a haven for some of the best music to be found in the entire state. Stone Mountain Arts Center is an elegant timber frame barn that has welcomed the likes of Tom Rush, Richard Thompson, Aaron Neville, Lucinda Williams, The Cowboy Junkies, Paula Poundstone, The Indigo Girls and Bruce Cockburn. The brainchild of singer Carole Noonan, the venue serves dinner before selected shows as well as wine and craft beers. Stone Mountain Arts Center offers performances throughout the winter, keeping the singer-songwriter flame alive when the snow flies. Visit the website to learn about upcoming performances.
Holiday Shopping in Maine
Kick off your holiday shopping in Freeport, home to more than 150 outlet stores and specialty shops offering high fashion, outdoor wear and Maine-made gifts, not to mention home to L.L. Bean since 1912, which has a sprawling campus that's famously open around the clock.
Beyond Freeport, Kittery offers The Kittery Outlets, more than 120 stores offering clothing and goods at discounted prices. They include Barbour, Kittery Trading Post, Banana Republic Factory Store and Polo Ralph Lauren, not to mention Coach, Gap Outlet, Loft Outlet, Crate and Barrel, Eddie Bauer, lululemon, Nike and Under Armour. In Portland, unique shops such as Folly 101, Portland Trading Company and Leroux Kitchen are worth a visit, as are the shops in the three-story Portland Flea-for-All. A special treat for travelers along I-95 is The Center for Maine Craft, located at the West Gardiner travel plaza. The retail store and gallery sells and exhibits the work of more than 300 Maine craft artists. Go to Visit Maine for more on Maine shopping.
Holidays Celebrated the Maine Way

Maine welcomes the holiday season with a variety of traditional and unusual winter festivals. In the Midcoast town of Rockland, locals and visitors gather on Thanksgiving weekend to see Santa Claus arrive by lobster boat and light a lobster trap tree. The inventive tree is some 30 feet tall, built from 152 red and green metal lobster traps and ornamented with buoys decorated by local families. It's capped with a five-foot tall illuminated fiberglass lobster. Christmas Prelude in Kennebunkport offers tree lighting, fireworks, a candlelight stroll, caroling and the arrival of Santa on a lobster boat. Gardens Aglow, a festival of lights at the Coastal Maine Botanical Gardens in Boothbay takes place November 18 through December 31. With more than 150,000 lights strung among the 14-acre gardens, it creates the largest light display in Maine.
---