August 2016 — This is the sublime month when Maine inspires painters and poets. August is when farmers' markets are filled with summer's bounty, when a week of beach days is punctuated by a visit to one of the state's extraordinary maritime heritage sites and the tally of new restaurants throughout the state seems to increase every week. Can't visit this month? The best way to virtually experience Maine in all its variety and summer glory is a quick click to visit "Chasing the Sun," where six adventurers outfitted by L.L. Bean explore various corners of the state. Looking ahead, it's time for seaplane buffs to plan a September visit to the buzzing skies of Greenville while leaf peepers would be smart to book their accommodations now for nature's grand show this fall.
For writers, editors and bloggers looking for short-lead news, you'll find immediate details under Happening Now. Those in search of longer lead news can scroll down to the Looking Ahead section.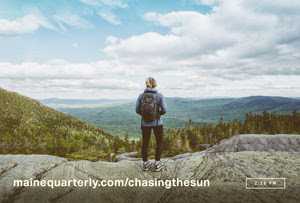 Chasing the Sun
What do you get when you take six friends who've never been to Maine and set them loose for adventures and dining on the coast and in the mountains? The newest issue of The Maine Thing Quarterly, "Chasing the Sun," an immersion in Maine's culture and lifestyle. This group of adventurers go fly fishing on the Androscoggin River and hike up Tumbledown Mountain. They learn to camp along the Atlantic, take to the waters of Casco Bay for paddle boarding and test their mettle cliff jumping in Coos Canyon. Incredible vistas and a classic lobster bake are among their rewards. To view their interactive adventures, go to "Chasing the Sun."
Experience Maritime Maine
Thanks to more than 5,000 miles of coastline and industries such as lumbering, shipbuilding, fishing and lobstering, Maine has a rich and storied maritime history and dozens of maritime heritage sites. The coastline is dotted with more than 60 lighthouses and fleets of windjammers can still be seen along the coast. More than 125 Maine properties of maritime significance are listed in the National Register, from sea captains' homes to shipyards and historic vessels, not to mention the Maine Maritime Museum, located on the banks of the Kennebec River in Bath, and the Penobscot Marine Museum in Searsport. Head to Experience Maritime Maine for a full roster of Maine's coastal treasures.
Portland Dining Scene

The recent New York Times story on Portland (36 Hours in Portland, Me.) said that "there's more to this city than great food." It's true, and the same could be said of Rockland, Belfast and Kennebunkport, not to mention Camden, Bar Harbor and Lewiston, places where the new Maine dining scene is having a big impact.
That said, the writer of the Times story did indeed give a shout out to some of Portland's best eateries. Scales, "the latest venture of a partnership that includes the chef Sam Hayward (of Fore Street fame), recently opened in a big, light-filled space on Maine Wharf with a shiny open kitchen and views of the docks." Then there's the "extraordinarily moist doughnuts at The Holy Donut, in flavors like blueberry and maple bacon." Other dining spots that were singled out include The Honey Paw, Central Provisions and longtime favorite Becky's Diner, "where locals and tourists sit at Formica tables beneath a press-tinned ceiling and fill up on buttermilk pancakes, eggs done any way you want, and huge sides of home fries." For those who really want to stay up to the minute on Portland's food trends and news, subscribe to the daily newsletter, Eat Drink Lucky.

International Seaplane Fly-In
If the words "Cessna," "Cub" and "Beaver" get your engine going, then imagine what will happen when you spot a rare Grumman Goose or a Caravan. For the uninitiated, these are among the classic seaplanes you're likely to see at the International Seaplane Fly-In in Greenville, Maine, from September 8 – 11, 2016. The 43rd annual Fly-In celebrates a state where lake-to-lake travel by seaplane is a way of life. Close to 200 aircraft are expected at this year's event, where pilots get a chance to show off their skills and fans can get up close to some rare vintage aircraft. Go to International Seaplane Fly-In for more details.
Reserve Now: Inns for Fall Foliage
Maine offers a dramatic display of color during foliage season every year, best seen on a rambling drive through the mountains or along the coastline. Will it be the Rangeley Lakes National Scenic Byway, a leisurely ramble down the peninsulas of Midcoast Maine or a drive along the Acadia & Schoodic National Scenic Byways? Perhaps a long drive through the mountains, lakes and small towns of Western Maine, at the edge of White Mountains National Forest? Or, maybe the Old Canada Road Scenic Byway, which runs 78 miles from Solon to the Canadian border and offers dramatic views of the Kennebec River and Wyman Lake, a National Scenic Byway and one of only 125 routes in the country to hold that distinction. Finding the foliage is the easy part, but making reservations should start now for hotels and motels, inns and bed & breakfasts for an amazing fall trip. Go to Visit Maine for a comprehensive selection of lodging.
Farmers' Markets

Since 2009, the Castine Farmers' Market on the Common has been offering the bounty of area farms. This oceanside market is a classic but it's just one of many in a state that has dozens of Saturday farmers' markets, serving residents and vacationers from the mountains to the sea. Along the coast, there are dozens of markets, including Bath, Boothbay, and Brunswick. Head inland and you'll discover the Skowhegan Farmers' Market at the Somerset Grist Mill. In Western Maine, the Bridgton Farmers' Market, the Bethel Farmers' Market and the Kingfield Farmers' Market offer the cornucopia of the season. In Downeast Maine, Eastport, Lubec and Machias have lively markets. The Maine Federation of Farmers' Markets has an interactive map to help you find the closest market.
---