March 2016 – The first glimmers of spring are apparent in Maine and the celebrations leading up to Acadia National Park's Centennial continue all month. In Portland, Rockland, Kennebunk and other Maine cities and towns, March is synonymous with Maine Restaurant Week, a great chance to sample affordable dining in a state where the food scene continues to explode. This is the time of year when passionate anglers get their gear ready for the opening of the fishing season on April 1. It's also a time for dedicated fishermen to book a spring or summer visit to one of Maine's classic sporting camps.
For writers, editors and bloggers looking for short-lead news, you'll find immediate details under Happening Now. Those in search of longer lead news, scroll down to the Looking Ahead section.
MAINE RESTAURANT WEEK
The annual Maine Restaurant Week is when the state's best chefs get to shine and the public gets to dine at bargain prices. Running from March 1 to 12 this year, participating restaurants are offering multi-course meals at fixed prices, ranging from $25, $35, $45 and $55 per person, depending on the establishment.
Several hotels, including the Portland Harbor Hotel, The Brunswick Hotel and Tavern, and the Camden Harbor Inn are offering lodging specials to pair with dining week. This year, participating restaurants can be found in Portland, South Portland, Cape Elizabeth, Camden, Rockland, Lewiston, Bangor, Kennebunk and other towns around the state. For more information, visit Maine Restaurant Week.
LOBSTER – THE REAL THING
When you order lobster in a restaurant, are you really being served lobster? A recent story on Inside Edition found that when consumers ordered lobster at 28 restaurants chosen at random by the news source, they were served langostino, whiting or pollock 35 percent of the time. Thankfully, that's not an issue in Maine, home to the finest lobster in the world.
The lobster is authentic and the only debate is a decades-old one about the revered lobster roll. Some proponents say that a lobster roll should be lightly dressed in mayonnaise. Others insist upon drawn butter. Some folks claim that a true Maine lobster roll is incomplete without a sprinkling of diced celery or even a dusting of smoked paprika. And then there are the diehards who insist that the meat of a true lobster roll must be served unadulterated, in chunks, on a hot dog roll. Go to Visit Maine for more about Maine lobster.
FISHING SEASON
The fishing season starts on April 1, when Maine's 6,000 plus lakes and ponds open for anglers of all stripes. While spin casting and trolling remain popular, Maine has a century old history of fly fishing, going back to the heyday of the sport in the Rangeley Lakes Region. The Rangeley Outdoor Sporting Heritage Museum in Oquossoc is the best place to get acquainted with the history of fly fishing in the state. Learn to cast at one of L.L. Bean's Discovery Schools or hook up with one of the dozens of independent outfitters around the state. From landlocked salmon to native brook trout, striped bass in Casco Bay to largemouth bass on a quiet Maine lake, the fish are waiting.
MAINE SPORTING CAMPS
The Maine sporting camp tradition started more than a century ago. A classic "camp" is a small group of lakeside cabins surrounding a lodge on a remote and beautiful lake, pond or river that offer access to extraordinary fly fishing in the Maine woods.
Based on the traditional American plan that offers three hearty meals each day, these camps also offer registered Maine guides to take sports deep into the wilderness for an extraordinary day of angling. This year, Libby Camps celebrates their 125th anniversary and Wilson Pond Camps on Moosehead Lake is marking their 150th year. Go to Visit Maine for more on sporting camps.
SPRING BIRDWATCHING & BIRDING FESTIVALS
Thanks to an abundance of protected bays and rocky peninsulas and capes, the Maine coast offers an incredibly beautiful environment for spring birding. Maine is on the Atlantic flyway and, if you visit in the spring, you can catch first-of-the-season glimpses of warblers, vireos, orioles, flycatchers, Canada geese and other seasonal visitors that have migrated north.
In early spring, you should still have plenty of opportunities to see the state's wide variety of seabirds and the occasional bald eagle, part of the largest population in the Northeast. For a chance to flock together with fellow bird lovers, Stonington's Wings, Waves & Woods Weekend from May 20 to 22 is an annual festival that celebrates "birding by land, by sea and by art." It includes birding for kids, guided puffin boat trips and birding on Swan's Island. The 13th annual Down East Spring Birding Festival runs Memorial Day weekend, May 27-30, in the Cobscook Bay area and was singled out by Yankee magazine as an "Editor's Choice" event in 2014. The Acadia Birding Festival, June 2 to 5, is a great way to explore Mount Desert Island through its extraordinary birdlife. Go to Visit Maine for more resources on birding.
ACADIA NATIONAL PARK'S CENTENNIAL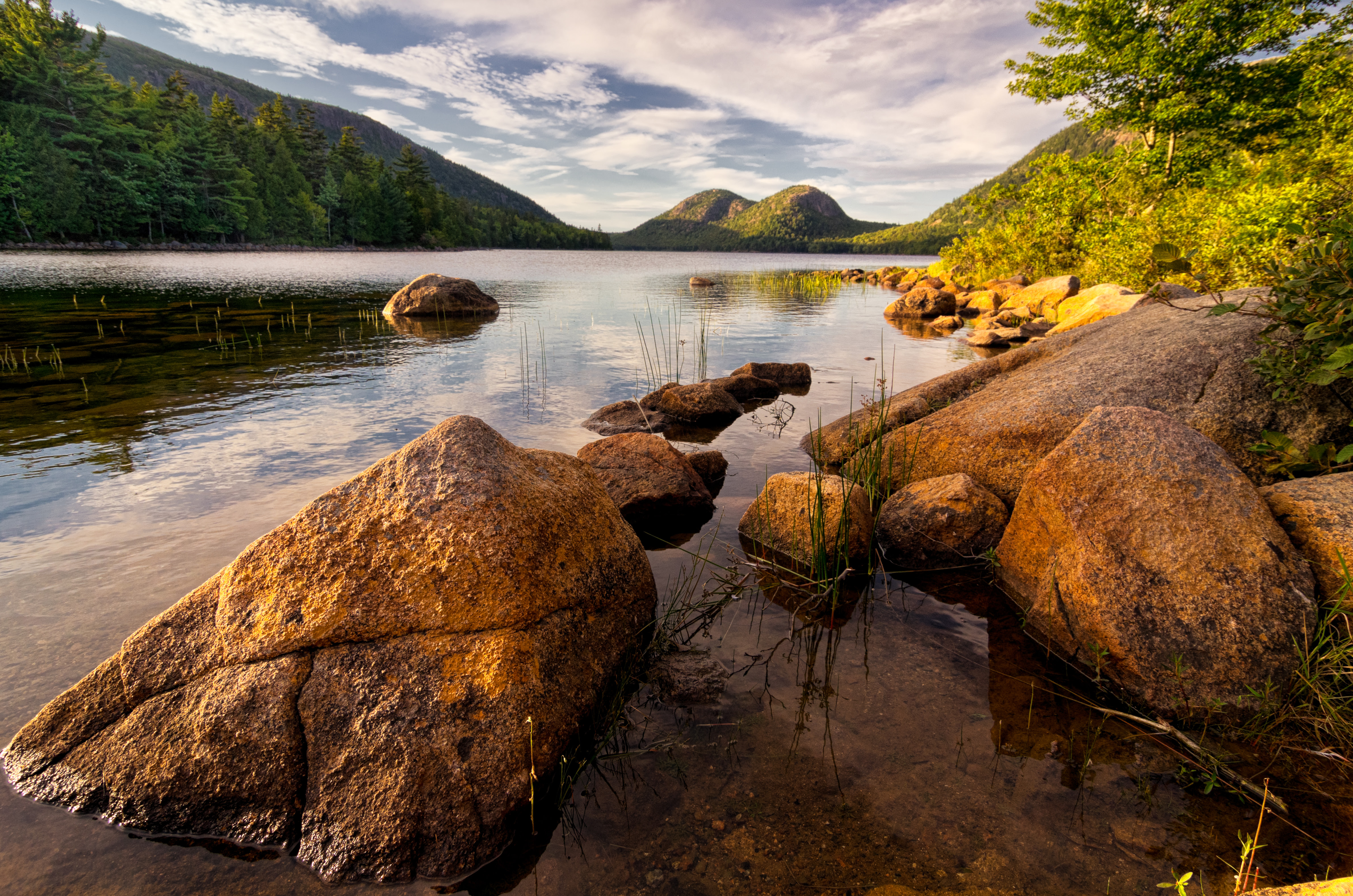 The yearlong celebration of the Acadia National Park Centennial involves more than three hundred Acadia Centennial Partners, working together to put on a community-based, world welcome. March is Women's History Month, and the Southwest Harbor Public Library will host a month-long exhibit of Acadia-themed artworks by women with an artists' reception on Tuesday, March 8. March is also the last month for the Maine Arts Commission's Acadia Centennial art show at the Maine State Capitol in Augusta.
Looking ahead to the month of April, highlights include an April 7 launch party for Creating Acadia National Park by Ronald H. Epp, the ground-breaking new biography of park founder George B. Dorr. April 16 is the start of the "Centennial Edition" Acadia Quest, an experiential scavenger hunt for kids, teens, and their families, along with a new "Digital Quest." On April 19, 21, and 26, there will be three successive talks on the geology, history, and wildlife of Acadia co-sponsored by Blue Hill Heritage Trust, Blue Hill Public Library, and Downeast Audubon. On April 30, two new museum exhibits open that examine Acadia's past from different angles: Auto Wars: Then and Now at the Seal Cove Auto Museum and People of the First Light at the Abbe Museum.
Visit the Acadia Centennial website to see a calendar of 2016 events.
---